How to Store your Costumes
You've bought and-or made some really beautiful costumes. Maybe you only have one, maybe you've got more than one in every color. In any case, when you're not wearing them, fixing them, or making them, you need to put them away some place clean and safe. So where do you put them?
You've got basically two options - fold them or hang them. And some types of costumes react better to one vs the other. Here's a picture of my costume closet.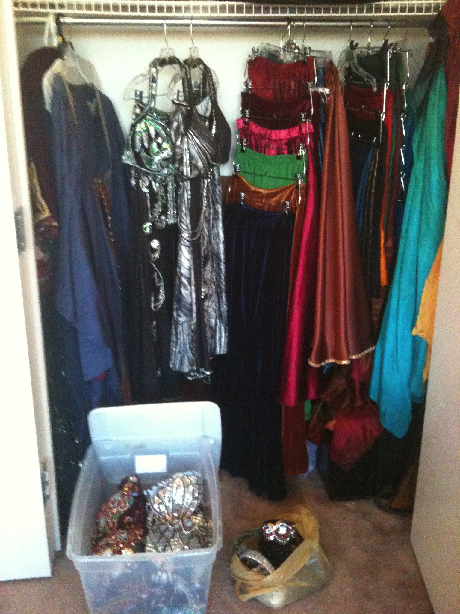 To the far left I've hung up my folkloric costumes - a couple linen 16th Century Ottoman Turkish coats, a cotton Victorian Ghawazee coat, etc. Hanging is a very good option for fabrics that wrinkle. Make sure coats are buttoned (a few buttons) when hung so they keep their shape.
Next to that I have two Egyptian style (bra and trumpet skirt) costumes - a black lycra Hanan and my Smoke costume (my own design). Though the Smoke costume is made of velvet, it's a very low pile (thin) velvet and isn't very vulnerable to crush marks. I've hung the skirts by rubber-footed clamps on the bottoms of the hangers, and hung the bras over the necks of the hangers, fastening the hook and bars in the back of the bra bands. These types of costumes could be folded or hung. However, I wouldn't do this with with my more plush velvet bra and skirt sets (see below).
The third bunch of hangers hold most of my skirts. This includes satin and chiffon circle skirts as well as velvet trumpet skirts. Since I always wear my velvet trumpet skirts with bedlahs (bra and belt sets) the top of the skirts will never been seen, so if the clamps cause crush marks, no one will ever see them. Since I have a good number of skirts, I like to save space by using a "6 Tier Skirt Organizer" hanger. All of these skirts can easily wrinkle, even from being neatly folded, and if they were wrinkled you'd need to iron them before you wear them to a performance. (Iron velvet on the inside, with high heat and quick strokes, to prevent iron marks.) By hanging these skirts you have a better chance of them being ready to wear.
The same thing is true for veils. The fourth bunch of hangers, furthest to the right, are my veils. I'm also using a 6 Tier hanger for them. I fold my veils in half three or four times, always in the same direction - so I end up with a long narrow rectangle, where the top and bottom are the long edges of the veil. I put the clamps about an inch in from the folds on either side so that the folds of the veil are left to hang loosely. If you're having trouble folding your veils because of static electricity, lightly brush them with a dryer sheet. The fans of my veil fans are sitting on the shelf above the clothes rod, and I let the silk hang down to the right.
That leaves the plush velvet bra and skirt sets, and the bedlahs. In the plastic box on the floor I keep all of my bedlahs neatly laid out, belt laying flat and bra on top. I have room for two sets side by side, and I can fit about three or four layers.
The plush velvet bra and skirt sets would probably be harmed by hanging them from clamp hangers - the marks would be visible on the tops of the skirts. Here I have a teal Eman Zaki and my own Lavender velvet design. For each of these I hold the skirt up by the sides, folding it in half width-wise. Then I fold up the bottom of the skirt underneath and lay the bra on top. These I put on top of the bedlahs in the box.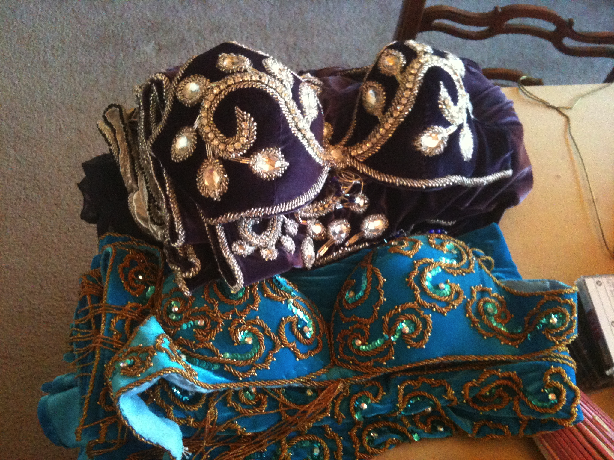 It is extremely important to never put a costume away in a box while it's still moist. Let your costume lay open on a table over night to air out if you've worn it and sweated in it. I have a lid for my box which I lay on top, but I never actually seal it so that air can always come in. Feel free to keep satchels of cedar chips in your box to keep moths and other unwanted creatures away.
The accessories for all of my costumes, such as gauntlets, headbands and attachments, I keep in a simple plastic bag that I sit on top of the bedlah box. Little costume pieces can easily get lost among larger items, so I find that keeping them all in one place is better.
In my bedroom I actually have a huge cedar chest that I keep the rest of my stuff in, which includes cupcake skirts (floofy tiered skirts), hip scarves, choli tops, harem pants, coin belts, and various other random items. I fold them and pile them up. My Melodia pants, Geisha Moth costumes, and workout clothes are all folded and put in a regular chest of drawers in my bedroom.
Back to Costumes