The Tools You'll Need
The Basics: What you'll need for even the simplest tasks.
~Sewing Needles: There are two major types of sewing needles - the ones for sewing machines, and the ones you use to sew by hand. Machine needles come in a variety of sizes, in the US ranging from 8 to 19 with the smallest number being the thinnest. Anything from size 10 - 14 is a good bet for the types of fabrics we deal with. Machine needles also come in a "stretch" version, which is just a sharper needle. For hand sewing needles, you'll need a strong one for sewing together the thick bases of your costumes, and a thin one for beading. They sell variety packs of needles, but the ones small enough for seed beads are usually not in there.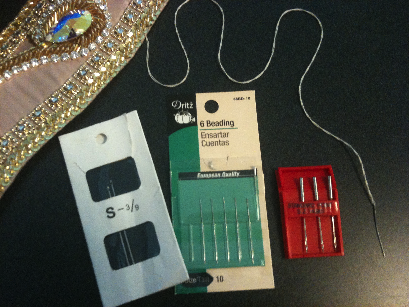 ~Scissors: Set aside a pair of new scissors for fabric only. Paper and hair dull scissors, and fabric scissors need to be very sharp. You can use generic scissors, but I used Gingher brand scissors made for fabric. I got them in a pack with a big pair and a tiny pair for $50. Best purchase ever.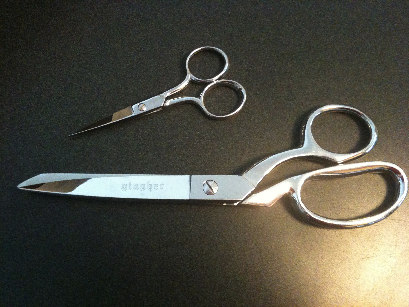 ~Fabric Measuring Tape: We all have the stiff metal measuring tape from the tool box. That just won't hug your curves enough to be useful. You need a flexible measuring tape meant for tailors.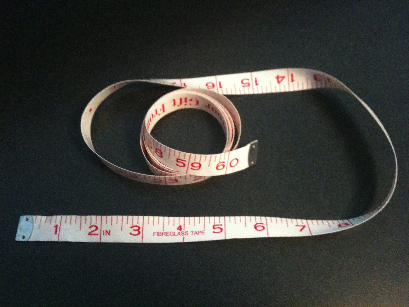 ~Straight Pins: Straight pins hold things in place while you are sewing them. They can even be used to mark a spot, like where you want your hook & eyes to be.
~"Button and Craft" Thread: Also known as "Button and Carpet" thread, you'll find this thread in a fabric store near the rest of the sewing threads. It typically come on smaller spools, and they'll be near the upholstery thread. It comes in a limited assortment of colors. It's very strong and will be what holds your costume together. I even use it for all beading. *Fun Fact - in previous generations, bellydancers used dental floss for these purposes. It's very strong, holds strands of beads securely, and it's minty fresh.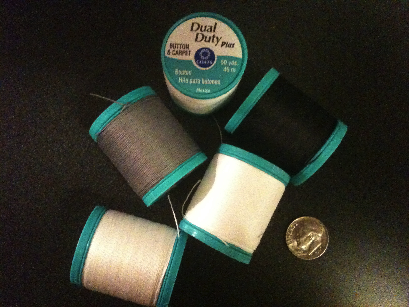 The Intermediate: What you'll need to make more advanced alterations and repairs.
~A Sewing Machine: There are very advanced machines on the market, but 95% of what we'll be doing are straight stitches and zig zag stitches that every machine has. If you have sewing-machine-phobia, you can definitely do everything by hand. But a sewing machine will save you time, and its stitches will lie much flatter than hand stitches can.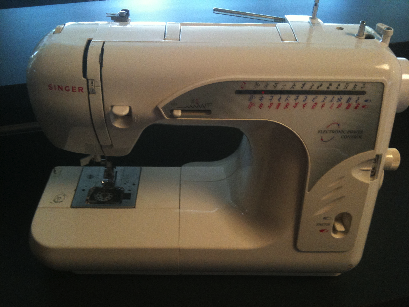 -Pliers: Sometimes bellydance costumes are really thick, and getting your needle all the way through with brute force alone ends up with bent needles. Use pliers to pull the rest of your needle through from the outside. This is also really helpful for anyone with hand issues (arthritis, tendonitis, etc.).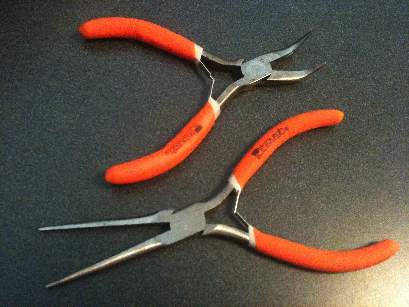 ~Soap: Yes, soap. A sliver of a bar of soap can be used to draw on your fabric, and then wipe off afterwards. There are also special fabric pencils that do the same thing. You'll use this to draw out a shape that you will bead over. Sometimes I use magic marker instead, if I know an entire surface will be covered up.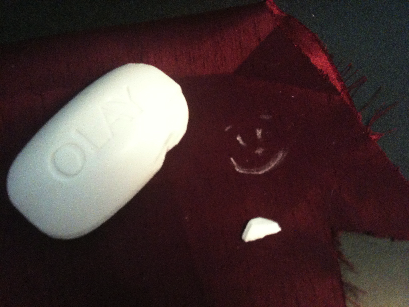 The Advanced: What you'll need to make additions, major alterations, and whole costumes from scratch.
~A Tackle Box: This is more of a recommendation. Tackle boxes are used for fishing accessories, but they are perfect for sorting and storing your beads. My box (looks like a huge tool box) has three clear plastic containers that fit into it, and each of those containers have little movable dividers inside giving me a dozen or so sections to put beads. One container is for golds and reds, the second is for blacks and silvers, and the third is for coins, shells, tribal beads and the rest. I also keep a large shoe box full of the un opened baggies of beads I've bought. Having things organized saves me a lot of time.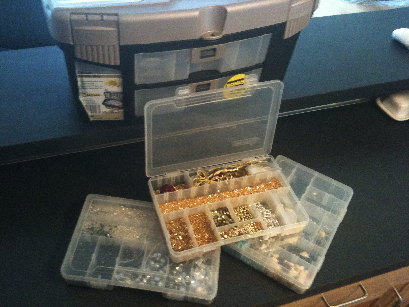 Back to Costumes