My Background
You might be wondering who I am and what my background is. I've been involved in bellydance since 2004, but I've been making costumes for a lifetime. I fell in love with costumes at a very young age, and Halloween was my favorite holiday. By the time I was six I had a costume hat collection - fireman, sea captain, top hat, tri-corner... I had 'em all. Why? Because hats are hard to make from scratch, but the rest I could create with shear force of will, and did. By the time I was eight I could make a fairy wand out of tin foil, pencils, a cereal box and tape in five minutes or less. (It's a good skill to have in case of emergencies. You never know when you might need one.) By sixteen, I had designed and hand-sewn a princess seamed full length dress out of green stretch velvet just for fun. My family didn't own a sewing machine, but I had a needle and thread and astounding tenacity. That probably tells you a lot about me.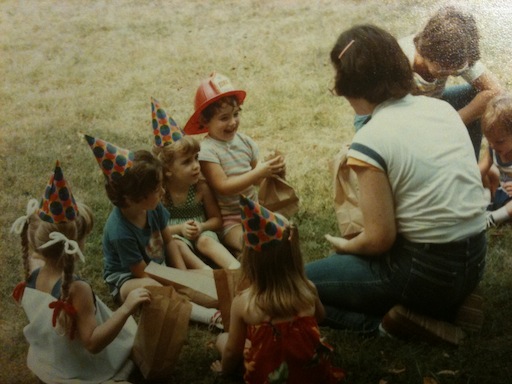 That's right, I'm the one in the fireman hat.
I started Live Action Role Playing (Larping) in 1998 and quickly learned how to make all sorts of Medieval, Renaissance, and fantasy costumes, not to mention the homemade weapons out of PVC pipe, isulation and duct tape. Figuring out how things are made so that I can make them is what I do. Believe it or not, I never got to take a Home Ec. class in high school. I was in the Honors track so they wouldn't let me. But in Physics class I made a lunar landing module for my egg drop project out of popsicle sticks, rubber bands, paper clips, a paper plate, tissues, ribbon, and tape. It was awesome.

This is one safe egg.
This may not be the background you were expecting. I imagine a lot of costume gurus got their sewing know-how from their bellydance teachers or their mothers, with secrets passed down through the ages. Knowing the ins and outs of duct tape may not seem to have anything to do with bellydance costumes. However - making an egg drop project, a toy sword, an Elizabethan ball gown or a bellydance costume all take the same basic skills: take these materials, cut them into a shape, and assemble them. They're just pieces to puzzles waiting to be put together.
I have a degree in Mechanical Engineering, and today I work in industry. It doesn't take a rocket scientist to make bellydance costumes, but sometimes it sure helps. What I'm able to do is break down large projects into a hundred tiny, easy steps. If every step is small, anything is possible.
Back to Costumes